iOnTech Consulting Group, the New Way to

success.

advance.

progress.
At iOnTech Consulting Group, we recognize that people and niche technology are the key to our company success in this latest technology era. That's why we focus on attracting, developing and rewarding the kind of staffs our clients enjoy working with. Our team of expert consultants has an average of 9 years' experience. We have experienced IT industry professionals who enjoy a flexible, client focused environment.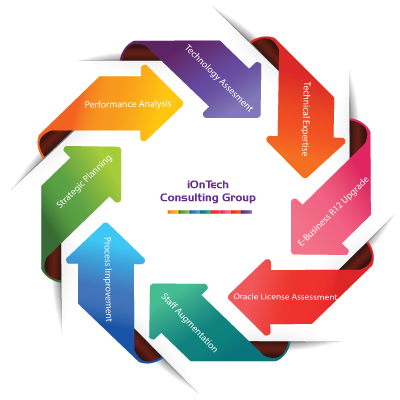 ---
The philosophy we follow
WE BELIEVE THAT LEADERSHIP, POSITIVE ATTITUDE, PASSION AND ACCOUNTABILITY ARE THE KEYS OF CONSISTENT PERFORMANCES

NEVER LIE TO GET YOUR WAY , TRY TO BE AS HUMBLE AS POSSIBLE.

APPEARANCE MAY NOT MATTER , BUT SAPIENT DOES

iOnTech Consulting Group
---
Oracle Service
We offer a unique combination of proven industry methods, and a tailored solutions to our clients Implementation, Upgrade, Migration, Support and Maintanence.
SAP Service
We pride on helping our clients develop successful business solutions through our understanding and use of SAP. Implementation, Upgrade, Migration, Support and Maintanence.
Business Analytics
Our BI consulting service helps our client to capture, integrate and analyze business information to improve decision-making and provide insight across business units, systems and enterprise
Staffing Service
Resource are employed by our Staff Augmentation Service, to help the companies to easily ramp up and down to meet changing demands without shouldering the cost and liabilities of full time employees.
Manage Service
We will be a cartaker for your managed services by providing multiple levels of support to match our client's organization requirements, in either a customer-hosted or iOnTech-hosted model.
Assessment Service
We offer advisory services specializing in Oracle & SAP applications and technology assessments, performance analysis and process improvements to address our client's unique objectives.
We Strongly Believe, A Consultancy is only as good as its People.

- iOnTech Consulting Group
We provide technology solutions for business, by keeping pace with the latest technology.

- iOnTech Consulting Group
Innovative ERP solutions requirement from the Information Technology company has empowered our business.

- iOnTech Consulting Group
Who We Are
iOnTech Consulting Group is a leading IT Service & Solution provider offers distinctive knowledge and experience in Oracle Applications, SAP , Staff Augmentation and Business Intelligence technologies.
We build long-term relationship with our clients and our employee. iOnTech Consulting Group hires and nurtures the best consulting staff and management team.
Oracle Solutions & Service
SAP Solutions & Service
Technology Assesment Service
Business Analytics
Staff Augmentation
Our Technology Practice
Our Methodology and Delivery processes ensure that customer requirements are met and projects delivered on time. Our consultants have an average over ten years of industry and consulting experience that enables them to make our customer more competitive.
Our services are broad based and include business process improvement, analytical services, ERP implementations, roll-outs, E-Business solutions, upgrades, testing, as well as application management, managed DBA service, remote DBA service, SAP implementation, Data Warehouse management, managed cloud base service.
We provide consultancy, solutions and service in various emerging technologies such as Hyperion, Cloud Computing, BigData Analytics, Application assessment service, Security audit and Performance tuning services, and Training Services.
Our Industry Expertise
Our deep industry expertise allows for us to tailor our services and solutions around the clients needs. iOnTech Consulting Group is setting compelling standard for delivery & customer satisfaction.
---
---
History of iOnTech Consulting Group
2014

Leading provider of IT solutions such as Oracle services, SAP services, Business intelligence solutions, Managed services, Assessment service and staffing service with excellent reputation of quality and on-time delivery track records. iOnTech Consulting group build bridges between higly talented pool of resource with IT corporate companies in Memphis, TN. Because we strongly believe in givin back to community

2012

We handpick our partners based on our own independent industry analysis. We maintain partnership with the leading software corporations in US that, we feel offer the best software solutions and consulting services to our customers. We always recommend best of breed solutions based on our customer's budget and needs.

2011

When it comes to technology and implementation, we have specialists with the right skills to solve project specific business and technology problems. We combine the right resources to provide the best team for every engagement!

2009

Founded in 2009 by ex-oracle employee with dedicated team of expert comprises of oracle applications and implementation specialists. Delivered Oracle e-Business suite solutions and services such has application upgrade, migration, customization and application support services to our clients.